BUREAU OF FIRE PREVENTION
"To prevent injury and damages caused by fire through code development, inspections, and licensing."
The Bureau, although headquartered in Tallahassee, has six field offices and three satellite offices around the state. A Supervisor is assigned to each field office to ensure support is available to our customers within their respective areas.
The Bureau now has a Public Portal where information related to Inspections of state buildings, inspections of boilers, plans reviews (state buildings only), and licenses issued by the Regulatory License Section can be found.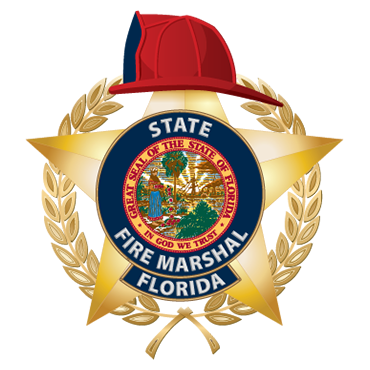 Contact Us:
Phone (850) 413-3171
Fire.Prevention@MyFloridaCFO.com
Bureau of Fire Prevention
Division of State Fire Marshal
200 E. Gaines Street
Tallahassee, Florida 32399-0342
The Inspections Section is charged with enforcing the State's Fire Codes, which include over 200 fire safety standards. Inspections are conducted annually of more than 14,000 state owned buildings and facilities. During the Fiscal Year they also conduct construction inspections for new state-owned or state-leased properties and provide assistance to local fire departments and governments.
The Plans Review Section (State Buildings Only) is tasked with the review of construction plans and documents for all state-owned and state-leased buildings for compliance with the Florida Fire Prevention Code.
The Regulatory Licensing Section is responsible for the enforcing all laws relating to the licensing and regulation of the following industries: Fire Equipment, Engineered Fire Protection Systems, Explosives, Sparklers.
The Construction Mining Section works to ensure that material mining in Florida is conducted in accordance with
Chapter 552.30
, Florida Statutes and Rule 69A-2.024 FAC.