Vol. 11, No. 2 - May 2022
Dear Floridians,
Recently, I was proud to join millions of Florida policyholders in applauding Governor DeSantis for issuing a call for a special session to address the ailing insurance market. Since I've been in office, we've worked every year to combat fraud, fight rising rates and protect consumers and we stand ready to provide policy support to aid the Governor and the Legislature in tackling this important issue.
The timing of this special session is especially prudent as it would convene before the start of the 2022 Hurricane Season in June, which is already predicted to be an extremely active storm season.
Sincerely,

Jimmy Patronis
Chief Financial Officer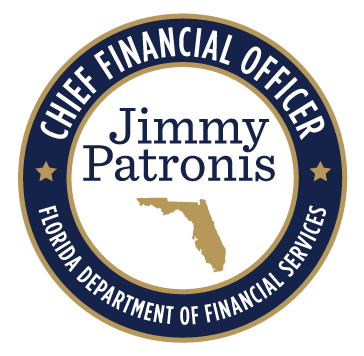 **Consumer Alert** CFO Jimmy Patronis Highlights $25,000 Florida Fraud Fighter Reward Program~ CFO to Expand Anti-Fraud Reward Program ~ 4/28/2022 TALLAHASSEE, Fla. — Today, Chief Financial Officer (CFO) Jimmy Patronis is highlighting the Florida Fraud Fighter Reward Program in an effort to increase fraud tips and crack down on insurance fraud statewide. The Florida Fraud Fighter Reward Program was established in October 1999 to encourage and reward up to $25,000 to qualified individuals who report information on suspected insurance fraud that leads to an arrest and conviction.
..Read more
Fraudulent Appointments - The Department has received many complaints from licensees reporting that their license has been appointed to insurers without their knowledge or consent. Some licensees have found their MyProfile account has been accessed and changes have been made to their demographic information.
..Read more
We all know our birthday month is a double-edged sword. We look forward to celebrating another year lived with our families and friends, but in the back our minds we also know it's the month our bi-annual Continuing Education (CE) requirement comes due. As you are chipping away at completing the required hours of CE, you should periodically check your CE cycle and transcript from your MyProfile account. If the hours for a recently completed course have not been reported to us, there are a few things to know, and next steps you should take.
..Read more
The enforcement actions included in this issue reflect enforcement actions taken in January and February, 2022. Some of the following enforcement actions were resolved through a settlement process resulting in an order for discipline. Notification of enforcement actions is in the public interest. Please check with the Department before making a decision based upon this listing as information may have changed/been updated. This listing does not reflect pending appeals or requests for hearings.
..Read more
Adjusting Firm License Compliance -The adjusting firm application was made available to firms on November 18, 2021. The Department has allowed the firms more than five months to comply with the law effective July 1, 2021. (See ss. 626.112(7)(a) and 626.8696, F.S.) We published an article in our November, 2021 newsletter advising firms the application portal was operational. The Bureau of Licensing also sent emails to all adjusting firm appointing entities and other interested parties announcing the start date for the application process. We published another article in our February 2022 issue reminding agencies they were required to apply for a license.
..Read more
Case: A case was opened against a general lines agent alleging he submitted fraudulent wind mitigation and home inspection forms to insurers to qualify applicants for discounts on homeowners' insurance premiums. A home inspector received a call to conduct an inspection on a property he had previously inspected. Not recognizing the name or address, he requested a copy of the report.
..Read more