Organization Structure
---
Office of Administrative Services
The Administrative Services (AS) team focuses on the day-to-day business areas of OIT. Financial areas of responsibility include budget management and monitoring, contract management, purchasing, asset management, and billing. The AS team is also responsible for overseeing all human resource and administrative activities.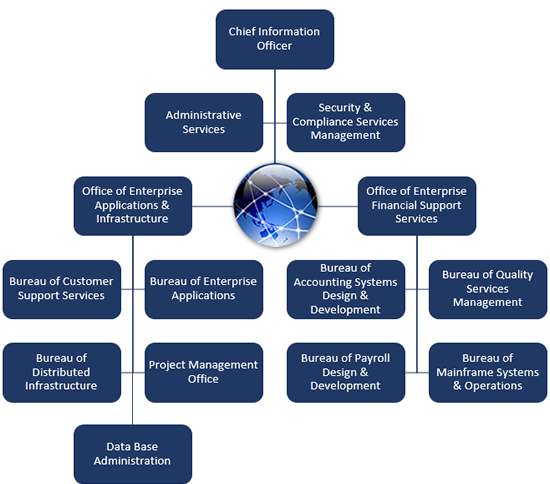 Office of Security & Compliance Services Management
In our digital world, we are continuously vulnerable to cybercrime and security threats that harm our citizens, institutions, businesses and economy. The Chief Information Security Officer (CISO) is responsible for securing the DFS' information assets, including data and the supporting infrastructure. The CISO supports the CIO by providing leadership in the development, delivery and maintenance of a cybersecurity program that safeguards the DFS' IT assets against unauthorized use, disclosure, modification, damage or loss. This office encompasses information security implementation, monitoring, threat and vulnerability management, cyber incident management, and enterprise business continuity management.
The CISO works with the Florida Division of State Technology (DST) to comply with legal and regulatory requirements, the statewide technical architecture, policies, industry best practices, and other requirements. We also work with the Florida Department of Law Enforcement (FDLE), federal government, citizens and private sector businesses to manage risk to support secure and sustainable information technology services to meet the needs of our citizens.
Office of Enterprise Applications & Infrastructure
The Office of Enterprise Applications & Infrastructure (OEAI) provide a wide range of cost effective information technology services to our 15 divisions and 2 commissions within DFS. Our services include network, telecommunications, desktop computing, project management services, unified communications such as email and calendaring, applications design and development.
We are dedicated to providing modern technology solutions, improving communications and collaboration platforms, and effectively managing risks and security .
Our office consists of the following bureaus and sections:
Bureau of Customer Support Services
Bureau of Enterprise Applications
Bureau of Distributed Infrastructure
Project Management Office
Data Base Administration
Office of Enterprise Financial Support Services
The Office of Enterprise Financial Support Services (OEFSS) ensures the State of Florida's Accounting and Payroll systems are secure, reliable and providing timely and effective customer support to resolve problems and provide technical solutions designed to meet business needs through the maintenance of positive relationships with our end-users. Our services include accounting systems design and development, quality services management, payroll design and development, and mainframe systems and operations.
Bureau of Accounting Systems Design & Development
Bureau of Quality Services Management
Bureau of Payroll Design & Development
Bureau of Mainframe Systems & Operations