Looking forward as seasons change...
A disaster can strike your business or your home anytime. Take action and learn ways on how to prepare.
Read more > >
Dear friends,
With the change of the season also comes the approach of the conclusion of the 2012 Hurricane Season. As we are witnessing with Hurricane Sandy, cooler weather does not always mean a decrease in storm activity. For the next 30 days, all coastal U.S. residents should remain vigilant of potential threats caused by severe windstorms. I urge you to review your disaster plans and be prepared for the worst. We hope you never encounter a disaster, but if you do, the information on our disaster preparedness site can help you or your customers.
As with every issue, we have lots of new information, particularly regarding compliance matters. We welcome your feedback and we look forward to hearing from you on how we can better serve you.
Thank you,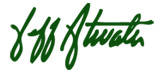 Jeff Atwater
Chief Financial Officer
State of Florida