Welcome to Insurance Insights!
A disaster can strike your business or your home anytime. Take action and learn ways on how to prepare.
Read more > >
Dear friends,
Welcome to the new name, look and feel of our newsletter, Insurance Insights. I hope that you find this new design and layout easy to navigate and the content to be interesting and informative. Feel free to provide us with your feedback on what we can do to improve this newsletter.
This month marked the beginning of the 2012 Hurricane Season. As Floridians, we know all too well the impact a storm can have on our homes or businesses, both structurally and financially. We saw two named storms before hurricane season had even started, followed by a hurricane, and now the destruction caused by Debby while only a tropical storm.
As an avid baseball fan, I have found that baseball and hurricane safety have a lot in common. To be successful at either you have to prepare, plan and most importantly, execute the plan. Doing so will help you protect your home base this hurricane season. The importance of preparing for hurricanes cannot be stressed enough. The top three reasons homeowners and business owners strike out when it comes to insurance claims are insufficient documentation, lack of adequate insurance coverage and failure to retain proof of damage.
Score a home run this hurricane season. Take the necessary steps to help you and your customers protect their families, homes and businesses. My Division of Consumer Services' website, www.MyFloridaCFO.com/Division/Consumers, offers videos, brochures, resources and tips, along with a disaster preparedness section that includes a home inventory checklist that can assist you and your customers.
Thank you,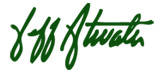 Jeff Atwater
Chief Financial Officer
State of Florida