News You Can Use
- Updating you on what's going on
Rule Changes Regarding Effect of Law Enforcement Records on Applications for Licensure
The Department has filed changes to the proposed rule amendments to Rules 69B-211.041 and 69B-211.042, Florida Administrative Code, relating to the effect of law enforcement records on applications for licensure. The changes are being made based on the record of the public hearing and in response to comments from the Joint Administrative Procedures Committee.
Click here to read the rule notice and changes >>
Rule Changes Regarding Customer Representatives
The Department has filed changes to the proposed rule amendments to Rule Chapter 69B-213, Florida Administrative Code, relating to customer representatives. A notice of change and correction was filed on June 15, 2012.
Click here to read the rule notice and changes >>
Office Orders Company to Cease and Desist the Unlicensed and Unauthorized Sale of Home Warranties in Florida
The Florida Office of Insurance Regulation (Office) issued an Order to American Fidelity Services, LLC (AFS) to cease and desist engaging in the unauthorized and unlicensed business of a home warranty association in the state of Florida. AFS is a limited liability company registered in the state of Maryland.
The Office conducted an investigation and determined that AFS is offering its American Fidelity Home Warranty program without a license through its online website: www.afhwarranty.com. The plan offers coverage for all common household appliances and systems. AFS has 21 days to respond to the Order.
Agents and consumers should research companies before they buy insurance. The Office has an online "company search" tool that allows agents and consumers to determine whether a company is authorized to sell insurance products in Florida.
Click here to read the news release >>
AvaHealth, Inc., d/b/a Key Insurance Plan - Notice of Receivership
On June 27, 2012, the Second Judicial Circuit Court entered an order placing AvaHealth, Inc., d/b/a/ Key Insurance Plan ("AvaHealth") into receivership for purposes of rehabilitation effective Monday, July 2, 2012. The Florida Department of Financial Services is the court appointed Receiver of AvaHealth.
AvaHealth is a health insurer, based in Tampa, which has approximately 1,700 insureds. The company's existing policies are not cancelled by the rehabilitation order and will continue in the ordinary course of business. During rehabilitation, the Receiver will continue to receive and review claims.

Protect Your Home Base! Disaster Preparedness Webinar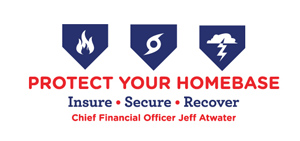 Webinar dates and times are:
Tuesday, July 10th at 12 p.m. EDT
Wednesday, July 18th at 2 p.m. EDT
Tuesday, July 24th at 5:30 p.m. EDT
Baseball and hurricane preparedness have a lot in common - you have to cover all the bases to be successful. As Floridians, we all need to be team players and insure, secure, recover.
With hurricane preparedness, making it to first base is ensuring you have adequate coverage for your property.  Tagging second base means securing important documents, and rounding third base is having the ability to recover after a storm. Taking these steps will help you protect your home base this hurricane season.
Florida's Chief Financial Officer Jeff Atwater encourages all Floridians to protect their home base by preparing financially for a disaster. The Department of Financial Services and the Federal Alliance for Safe Homes (FLASH) is hosting a series of disaster preparedness webinars to ensure residents are prepared. Topics will include how to:
Ensure adequate coverage
Safeguard important documents
Prepare an itemized inventory
Create and execute an evacuation plan
Properly file a claim
Strengthen your home or business
Make Sure You Don't Miss Important Information From Us
Add our domain MyFloridaCFO.com to your email software's Trusted or Safe Senders List to ensure you are able to receive all notifications from us. Licensees who have a valid email address on file with the Department, as required by law, receive important email notifications when something that affects your application, license, continuing education, or appointment(s) occurs. Additionally, we will keep you informed with warnings regarding new schemes and scams being marketed to licensees. You can update your contact information through your MyProfile account. We want to keep you informed in a timely manner of pertinent information important to you. You are still required to abide by the Florida Insurance Code regardless of whether you read the information we provide or attempt to provide.