Atlantic Hurricane Season Peak is Here
A disaster can strike your business or your home anytime. Take action and learn ways on how to prepare.
Read more > >
Dear friends,
Tropical Storm Isaac has served as a reminder to us all that the peak of hurricane season is here. Although, Florida was fortunate not to have been severely impacted by Isaac, it is important that we be prepared for the possibility of a future hit. If you have not already, I encourage you to review my Department's Disaster Preparedness website.
Additionally this month, we are reminded of the many law changes that will affect our licensee population on October 1, 2012. Please be sure to review those changes in the "In The Know" section of this edition..
As always, we take your feedback very seriously, and we look forward to hearing from you on how we can better serve you.
Thank you,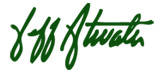 Jeff Atwater
Chief Financial Officer
State of Florida