Financial Preparations for a Hurricane Season Checklist
Agents should routinely verify the licensure of the companies for which they're selling. If you suspect an entity is not authorized or licensed to transact insurance in Florida, please notify our office. Report suspected unlicensed activity. Call 877-MY-FL-CFO (1-877-693-5236).
Read more > >
Dear friends,
As we draw closer to the beginning of hurricane season on June 1, now is an important time to make sure that your clients are financially prepared should a natural disaster strike. Most Floridians are aware of the damage that storms can inflict and have taken steps to minimize a storm's physical impact. But financial preparedness is an often overlooked part of hurricane season preparation that can make recovering from a storm more manageable for your clients and their family.
Some financial tips we recommend to make your clients' storm recovery more manageable include having cash on hand in case ATMs are out of service, having a credit card and keeping receipts to document repair transactions. In anticipation of a storm, they should also make sure their bill payments are current to avoid potential late fees.
Following a storm, they should also be aware of the potential for scams that attempt to take advantage of storm victims. When hiring a contractor or working with a public adjuster, we encourage consumers to make sure that he or she is appropriately licensed. It is also important to research contractors to ensure they carry adequate insurance coverage and to keep logs of all telephone conversations and copies of all documents signed.
A little research and preparation can go a long way to protect consumers and their families from the many costly hardships that can come with a storm. My office is always available to assist consumers with their questions. They can call my Consumer Helpline at 877-MY-FL-CFO (877-693-5236) for more information. Should a tropical storm or hurricane take aim at our state, we will activate a special consumer helpline, 800-22-STORM, to assist victims with insurance matters.
For more disaster preparedness tips, as well as videos, brochures and other information resources, please visit our Division of Consumer Services' website. We must be vigilant before and throughout hurricane season.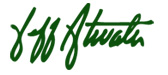 Jeff Atwater
Chief Financial Officer
State of Florida